International Lawyers Network Announces Redesigned Website at ILN.com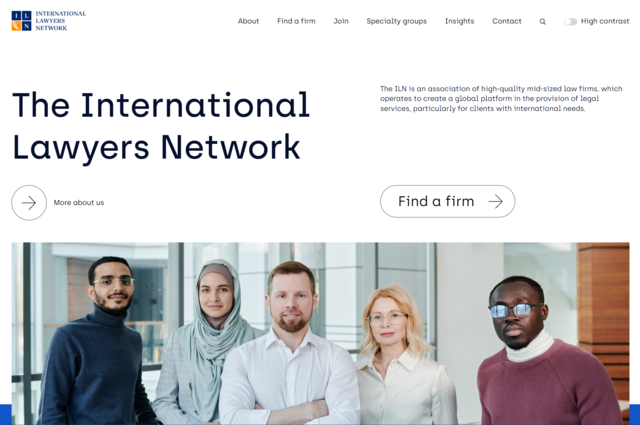 On Monday, the International Lawyers Network announced its redesigned website at
www.iln.com.
The launch coincided with the ILN's 35th Annual Meeting, held in Rio de Janeiro, Brazil, where members got a sneak peek at the new site.
The redesigned site provides a compelling look and feel to better reflect the ILN's progressive, modern network with accessible, easy-to-find content.
"Member firms and visitors to our site will now have a memorable user experience," says Lindsay Griffiths, Executive Director for the ILN. "The site focuses on key areas of importance to our audiences and implements intuitive navigation patterns."
The new website provides visitors with easy access to member firm contact information, both on desktop and mobile devices, and the ability to search members by country, name, or specialty. Up-to-date collaborative content is also available on the site, as is membership application information.
About the ILN
The ILN is a non-exclusive network of high-quality mid-sized law firms, which operates to create a global platform for the provision of legal services, particularly for clients with international needs. With a presence in 67 countries, it is exceptionally well placed to offer seamless legal services, often of a cross-border nature from like-minded and quality legal practices. In 2021, the ILN was honored as Global Law Firm Network of the Year by The Lawyer European Awards, and in 2016, 2017, and 2022, they were shortlisted as Global Law Firm Network of the Year. Since 2011, the Network has been listed as a Chambers & Partners Leading Law Firm Network, increasing this ranking in 2021 to be included in the top two percent of law firm networks globally. Today, the ILN remains at the very forefront of legal networks in its reach, capability, and depth of expertise.
Email International Lawyers Network