Pembroke, NC Author Publishes Book on American Indian Soldiers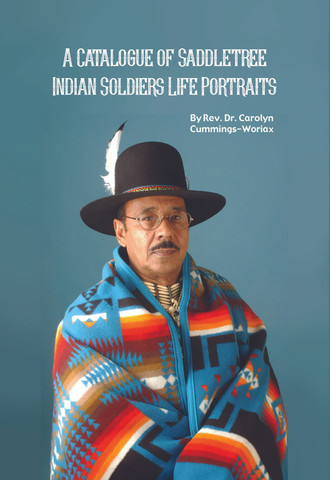 A Catalogue of Saddletree Indian Soldiers' Life Portraits, a new book by Rev. Dr. Cummings-Woriax, has been released by RoseDog Books.
In her latest book, Rev. Dr. Carolyn Cummings-Woriax has endeavored to bring to life the stories of the descendants of the early Revolutionary War Patriots of the Saddletree Community (Lumberton, North Carolina), as reflected upon in her first book, Revolutionary War Patriots: Bladen, Robeson, Cumberland, Sampson, and Duplin Counties, NC.
This document, A Catalogue of Saddletree Indian Soldiers' Life Portraits, not only brings to life the former patriots' descendants, it continues to reveal the migration routes of the soldiers from the Saddletree Community throughout the United States, and beyond.
Despite the racial and social injustices prevalent inside and outside of their communities, these Saddletree soldiers left the comfort of their culture, family and homes for the mission in service to the people of the United States of America, and its allies, during a pivotal time of American history when these soldiers and their families resided on the fringe of socioeconomic standards.
During this exploit, the author examines why the commonality failed to continue in practice, or if the descendants knew about the brotherhood of the early soldiers. She found, through her investigative research, that these lifestyle changes in Robeson County, NC, began during the eras of the Reconstruction Period and the Civil War.
Rev. Dr. Cummings-Woriax would like to offer thanks and a heartfelt appreciation to Colonel Thomas Wynn for his dedication and contributions in initiating the Memorial Living War at the Saddletree Community Building. This catalogue serves as a humble effort to give thanks to the many who served from the Saddletree and surrounding communities. Through this endeavor the author seeks to continue the legacies of those who went to war and never returned (Killed in Action, Prisoners of War, Missing in Action, Lost at Sea) or returned home with the seen and/or unseen wounds of war and service to the country.
About the Author
History and storytelling are prominent in Rev. Dr. Carolyn Cumming-Woriax's life. As a child, her oral traditionalist father and other members of the community shared their stories of yesteryear.
Rev. Dr. Cummings-Woriax holds special interests in Colonial War, the Whigs and Tories, the Tuscarora Indians War, and the Revolutionary War. These wars were harsh, particularly for those economically poor, with injustices and slavery placed upon those who had always known freedom, with forced transition to bondage by the encroaching occupants in the New Colony. Sadly, these wars played a major role in the writer's ancestry – on both sides – as European family connections fought against the Natives of America family connections, which in turn was met by counter-attacks.
While in preparation of certification of her Daughters of American Revolution War Patriot, John Brooks, Rev. Dr. Cummings-Woriax discovered an unrecognized wealth of information. Patriots who fought side by side in these major battles continued their commonality as citizens within local counties. The writer's discovery showed that a more vital patriotism was taking place among the patriots as citizens in the New Colony.
The writer's respect and honor for her Patriot, John Brooks, and other loyalists were heightened as she learned how these mighty warriors became neighbors. They were there for marriages and birth of children, developing their communities as farmers, businessmen, and civil and legal servants. Rev. Dr. Cummings-Woriax returns to her biblical history to point out the words of God: Only God can raise up a nation, and only God can tear down a nation. She understands this is what God has done for the early patriots and their descents. The building of a new community of people was God's doing.
A Catalogue of Saddletree Indian Soldiers' Life Portraits is a 260-page hardcover with a retail price of $71.00 (eBook $66.00). The ISBN is 979-8-88527-561-3. It was published by RoseDog Books of Pittsburgh, Pennsylvania. For more information, or to request a review copy, please go to our virtual pressroom at
https://dorrancepressroom.com/a-catalogue-of-saddletree-indian-soldiers-life-portraits/
or our online bookstore at
https://rosedogbookstore.com/a-catalogue-of-saddletree-indian-soldiers-life-portraits/