An NYC Moving Company with Heart: Samba Moving Redefines Excellence in the Industry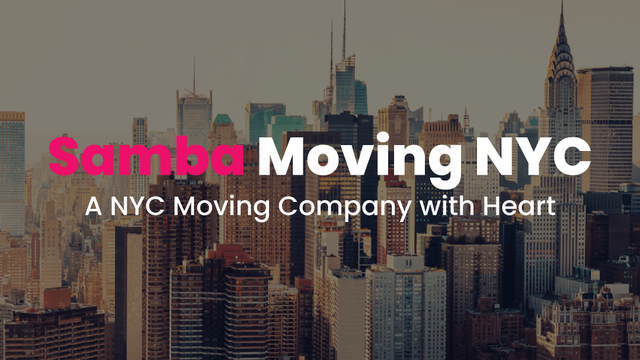 New York City, June 29, 2023 – Samba Moving, an
NYC-based moving company
, is revolutionizing the way people experience moving. While many moving companies prioritize profits over quality, Samba Moving takes a different approach. With a commitment to delivering top-quality service at affordable rates, and an unwavering dedication to customer care, Samba Moving has become one of the most trusted movers in the NYC area. Their goal is simple – to exceed clients' expectations by putting their hearts into everything they do.
With over a decade of experience in the
New York City moving
scene, Samba Moving has established itself as one of the finest moving services available. The company takes pride in offering a wide range of services at affordable prices while consistently delivering exceptional customer care.
Moving can often be a stressful experience, but Samba Moving strives to make it as seamless and hassle-free as possible. The
movers
at Samba Moving are not only highly skilled professionals but also passionate individuals who genuinely care about their work. They undergo meticulous training to ensure they provide the best service possible, sticking to the quoted price and guaranteed time frame while ensuring no damage is caused to any item. Samba Moving never makes empty promises but consistently delivers on its commitments, earning the trust of countless customers throughout the NYC area.
Samba Moving's personalized approach sets them apart from the competition. The company understands that every move is unique, and they tailor their services to meet each customer's specific needs. From the moment clients reach out to Samba Moving until the final box is unpacked, the team works closely with them to ensure a customized and stress-free moving experience. By taking the time to listen, understand, and meticulously plan every detail, Samba Moving allows clients to relax and focus on the next chapter of their lives.
Beyond exceptional customer service, Samba Moving is also committed to sustainability and environmental responsibility. The company actively implements eco-friendly practices, including the use of fuel-efficient vehicles and recyclable packing materials, to minimize their carbon footprint. By choosing Samba Moving, clients not only receive outstanding service but also contribute to a greener future.
Samba Moving invites you to discover the difference that a company with heart can make. Contact them today at (646) 328-6761 or visit
Samba Moving
for a free quote and experience the excellence that Samba Moving consistently delivers.
About Samba Moving:
Samba Moving
is an NYC-based moving company with over a decade of experience serving the New York City area, including Brooklyn, Manhattan, Queens, Staten Island, the Bronx and other surrounding cities. The company is dedicated to delivering top-quality service, affordable rates, and personalized customer care, making residential moves, commercial relocations, and specialized moving service.