STIHL honors best suppliers in 2022 and recognizes sustainability suppliers for the first time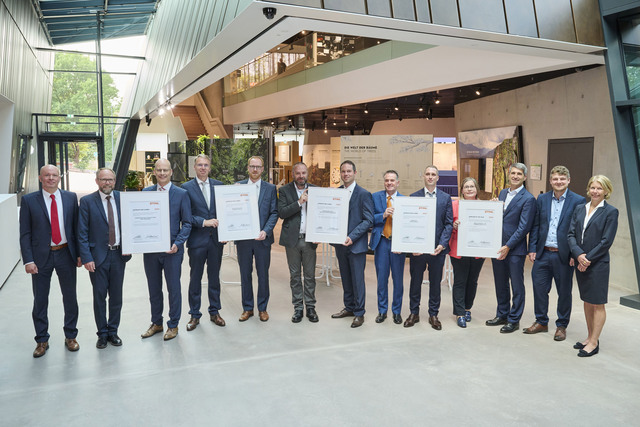 Waiblingen
- Out of all its suppliers worldwide, STIHL has honored five companies with the Supplier of the Year 2022 award. In addition, two firms have been named Sustainability Supplier of the Year 2022, an accolade that was presented for the first time. The winners were crowned on June 28, 2023, at the STIHL Brand World in Waiblingen, which will be officially opened in July.
Every year since 1990, STIHL has been honoring the best suppliers for their outstanding performance in terms of quality, technology, innovation, service, and cost efficiency. In her speech thanking the nominees and winners, Anke Kleinschmit, Executive Board Member for Research and Development, emphasized that the success of the family-owned business is also based on reliable partnerships. "Despite difficult conditions, our joint efforts have enabled us to minimize the effects of disrupted global supply chains on our production and to serve the high demand for our products to the greatest extent possible. This success is also due to our suppliers, who support us in challenging times with their service, reliability, and commitment, and make us optimistic about the future," says Kleinschmit.
STIHL has presented the Supplier of the Year award since 1990. To date, 117 suppliers have received this distinction, some of them several times.
This year saw two accolades handed out for the first time in the special category of sustainability. Through this new award, STIHL aims to honor companies that show particular commitment in the area of sustainability, which plays a key role in STIHL's supply chain. When it comes to responsible work and business practices, environmental action, and transparency, the company places equally high demands on its suppliers as it does on itself
The five winning suppliers for 2022 are:
Dätwyler Schweiz AG (Schattdorf, Switzerland) Manufacturer of elastomer components
Infineon Technologies AG (Neubiberg, Germany) Provider of semiconductor solutions for power systems and the Internet of Things (IoT)
Kaltband AG (Reinach, Switzerland) Producer of cold-rolled strip steel
LANXESS Performance Materials GmbH (Cologne, Germany) Manufacturer of high-performance plastics
ODW-ELEKTRIK GmbH (Steinau an der Straße, Germany) Producer of cable harnesses, solenoid coils, and mechatronic systems
The two Sustainability Suppliers of the Year 2022 are:
Eirenschmalz Maschinenbaumechanik und Metallbau GmbH (Schwabsoien, Germany) Manufacturer of precision parts and entire assemblies
EJOT SE & Co. KG (Bad Berleburg, Germany) Producer of connection and fastening technology
This press release and pictures are available for downloading from the STIHL website at
https://www.stihl.com/press.aspx.
Email ANDREAS STIHL AG & Co. KG