CustomCells enters cooperation with VÆRIDION / Another step towards electrified aviation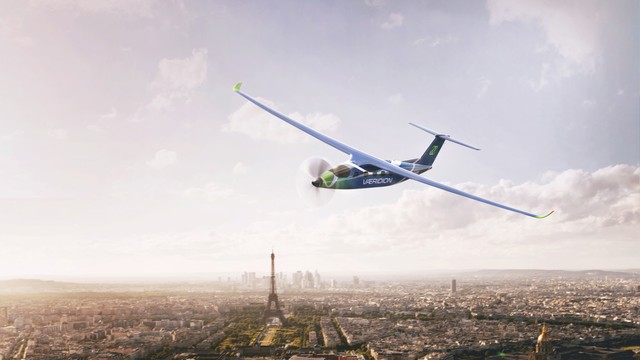 - Cooperation to yield cylindrical cells for eCTOL aircraft
- VÆRIDION developing aircraft for up to nine passengers plus crew with range of 500 kilometers
- First flight planned for end of 2026
Itzehoe/Munich, Germany, July 7, 2023. CustomCells is expanding its engagement in e-aviation through a cooperation with the Munich-based aviation company VÆRIDION. The cooperation aims to develop cylindrical cells that meet the certification requirements for use in electrically powered aircraft. CustomCells – already established as a supplier of high-performance battery cells – wants to set the benchmark for cylindrical cells in both the automotive and aerospace industries.
VÆRIDION wishes to make short-haul travel climate-friendly and is pushing forward with its electric aircraft: the Microliner. It is designed to carry up to nine passengers plus crew over distances of up to 500 kilometers. The design is inspired by gliders, and the batteries are integrated into the wings instead of the fuselage to optimize weight and range. The goal is to achieve certification by the end of 2028 with market launch expected before 2030. The Microliner is expected to be the most energy-efficient aircraft in its class.
The Microliner is expected to take off and land conventionally ("eCTOL" = "electric conventional takeoff and landing") as opposed to vertical takeoff and landing "eVTOLs" ("electric vertical takeoff and landing") and revitalize regional airports. The projected market size for eCTOL aircraft is between 5,000 and 10,000 aircraft by 2040 and would require up to 8 GWh of cylindrical cells annually for series production and in-service replacement.
"Electrifying aviation is an extremely important building block on the road to sustainable mobility. We are delighted that CustomCells can support VÆRIDION's exciting project. Our high-performance battery cells are a central element for this visionary project," says Dr. Dirk Abendroth, CEO of the CustomCells Group.
"High-energy-density batteries are an important requirement for regional air mobility with eCTOL aircraft such as the VÆRIDION Microliner. We are excited to work with CustomCells and build on their expertise in developing and industrializing specialty cells for high-power requirements," said Ivor van Dartel, Co-Founder and CEO of VÆRIDION. "The fact that CustomCells is strongly focused on industrialization and scaling up production gives us the confidence to reach the number of cells we need for the extensive task of testing, verifying, and validating the Microliner."
-Ends-
About Vaeridion
Vaeridion GmbH is a Munich-based company that aims to accelerate the green transition in aviation with electric aircraft. The Microliner is scheduled for market launch before 2030.
About CustomCells
CustomCells brings premium battery cells to the road, water, and air. As one of the leading companies in the fields of development and series production of special lithium-ion battery cells, CustomCells is setting the pace for a comprehensive technological transformation. CustomCells employs more than 150 highly qualified employees and operates development and production sites in Itzehoe and Tübingen.
Press Contact
Mike Eisermann
Head of Marketing & PR
Customcells Itzehoe GmbH
Fraunhoferstr. 1 b, 25524 Itzehoe, Germany
Mail:
mike.eisermann@customcells.de
Contact Information
Mike Eisermann
Customcells Itzehoe GmbH
Contact Us
Email Customcells Itzehoe GmbH