Parkland, FL Author Publishes Fiction Book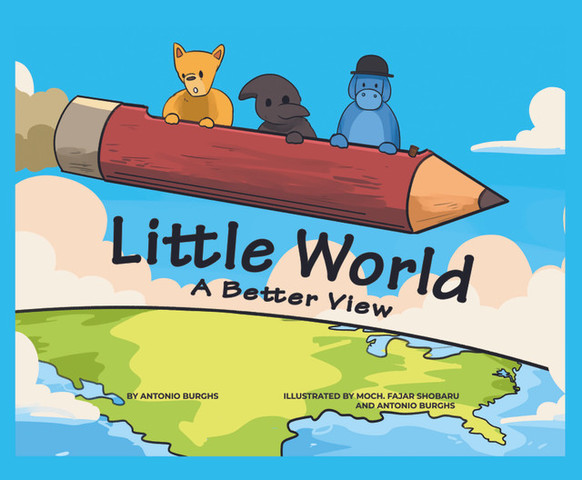 Little World: A Better View, a new book by Antonio Burghs, has been released by Dorrance Publishing Co., Inc.
Nancy, Betty, and Leslie are three Frands who have never left their home of Golden Gate Park in San Franland. As they sit around the Thinkin' Tree they hatch a brilliant idea: to fly a rocket into the atmosphere to get a better view of their world, to see how big it really is. As their plan comes to fruition, they run into other Frands of Golden Gate, like Papa Duck and his Seven Ducklings who want to learn how to fly. And Lady Emerson who finds peace in nature, away from the Big Cities. And Patience, who finally discovers a noble purpose in life.
Little World takes a fun approach to the curious perspectives of life within the beauties and struggles that exist within the United States of America, or rather, Vespucci Land. A Better View begins the journey through Vespucci Land with a message of the importance of finding a peaceful somewhere-in-the-middle ground to solve our problems and celebrate our beauties.
About the Author
Antonio Burghs has spent nearly his entire life in the beautiful state of Florida, a few years in the wonderful Boston area, and a few months in the fine town of Los Angeles. With a passion for seeing the country and the world, Burghs has a special interest in spirituality and learning about ourselves and the world in which we live.
Antonio has spent over five years teaching middle and high school social sciences (mostly American history and American government) in South Florida and he has spent a few years working with children from kindergarten to fourth grade near Boston. Burghs has also studied Telecommunications in Florida and Television in Boston and Los Angeles. He thinks the world is both a difficult and a wonderful place.
Little World: A Better View is a 68-page hardbound with a retail price of $44.44 (eBook $39.44). The ISBN is 979-8-8860-4385-3. It was published by Dorrance Publishing Co., Inc of Pittsburgh, Pennsylvania. For members of the press, to request a review copy, visit our virtual pressroom at
https://dorrancepressroom.com/little-world-a-better-view/
or to buy the book visit our online bookstore at
https://bookstore.dorrancepublishing.com/little-world-a-better-view/
Email Dorrance Publishing