Farmington Hills, MI Author Publishes Book on Co-Parenting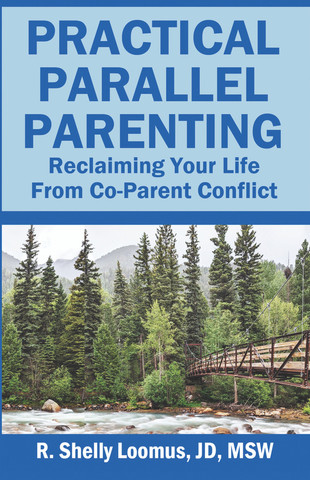 Practical Parallel Parenting: Reclaiming Your Life from Co-Parent Conflict, a new book by R. Shelly Loomus, JD, MSW, has been released by Dorrance Publishing Co., Inc.
Divorced and separated parents are told they must co-parent. Yet millions of parents face daily battles with their children's other parent. The conflict is real and so is the threat of losing custody. There is also the ongoing fear that the other parent will succeed in alienating their children. When your relationship with your children is at risk, how can you let go?
Practical Parallel Parenting is a MUST READ for anyone in a high conflict relationship with the other parent of their child. Loomus provides a masterly cross-disciplinary approach to and of the legal system and human behavior.
-D. Berkovitz, PhD
Practical Parallel Parenting is a must read for parents struggling with custody battles and want to NOT ONLY SURVIVE BUT THRIVE.
-D. Smith, Ed.D., MBA, MA
Loomus has GREAT INSIGHT into family dynamics, offering PRACTICAL SOLUTIONS to sometimes overwhelming problems. The reader is left not only with a guide, but with hope.
-S. Rubenstein MSW, ACSW
Author R. Shelly Loomus, JD, MSW, provides a comprehensive guide for managing post-divorce, child-related, conflict. Loomus addresses the daily battles parents face outside court and outlines pathways for disengaging and moving forward. These include:
• The true nature of the conflict.
• Why the court system fails you.
• How to reframe your narrative.
• How to respond to the most common problems facing co-parents without getting into another fight.
• How to help your children develop skills to navigate their relationship with their combative parent.
For several decades, Loomus has combined her skills as an attorney, clinical social worker, and family mediator to help parents manage their divorce and post-divorce related conflicts. Loomus works with clients in real time, strategizing with them to effectively respond and resolve co-parent conflicts. If you are struggling with chronic co-parent conflict, this book is for you. Learn how to free yourself and move on with your life.
Practical Parallel Parenting: Reclaiming Your Life from Co-Parent Conflict is a 170-page paperback with a retail price of $17.00 (eBook $12.00). The ISBN is 979-8-88812-390-4. It was published by Dorrance Publishing Co., Inc of Pittsburgh, Pennsylvania. For members of the press, to request a review copy, visit our virtual pressroom at
https://dorrancepressroom.com/practical-parallel-parenting-reclaiming-your-life-from-co-parent-conflict/
or to buy the book visit our online bookstore at
https://rosedogbookstore.com/practical-parallel-parenting-reclaiming-your-life-from-co-parent-conflict/
Email Dorrance Publishing