Children's Institute's Trauma-Informed Care Conference Features California Surgeon General Diana Ramos, MD and Trauma Research Pioneer Bessel van der Kolk, MD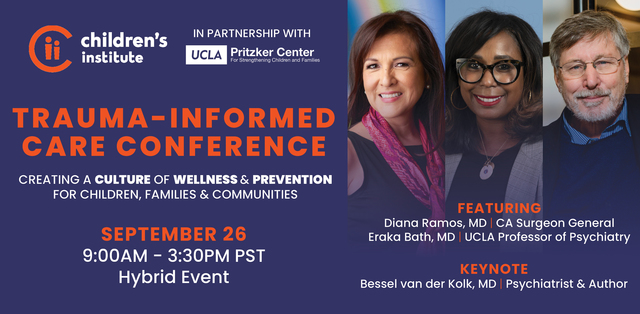 LOS ANGELES (September 9, 2023) – Children's Institute (CII), one of the largest agencies of its kind partnering with communities to provide integrated, trauma-informed programs and services, is hosting its annual Trauma-Informed Care Conference on
Tuesday, September 26
at CII's Otis Booth Campus in Echo Park. The conference, hosted in partnership with National Child Traumatic Stress Network and the UCLA Pritzker Center, will feature a conversation with
California Surgeon General Diana Ramos, MD
and UCLA Professor of Psychiatry
Eraka Bath, MD
, moderated by LAist Senior Reporter
Mariana Dale
. The keynote presenter is <i>New York Times</i> best-selling author of <i>The Body Keeps the Score</i> and trauma research pioneer,
Bessel van der Kolk, MD
.
Past keynote presenters include Pulitzer prize winning investigative journalist Andrea Elliot, former Stockton, CA Mayor Michael Tubbs, and author of <i>How to Be an Antiracist</i> Ibram X. Kendi, PhD.
The Trauma-Informed Care Conference brings together professionals working with children and families from the front lines, such as child welfare and mental health professionals, as well as school and juvenile legal system staff. Policymakers, program administrators and organizational leaders from public and private agencies play an equally critical role in conversations around improving trauma-informed care for system-involved families. This year's theme focuses on <i>Creating a Culture of Wellness & Prevention for Children, Families & Community.</i>
"I've witnessed firsthand the profound impact of safe, stable, and nurturing relationships on a child's health," said
California Surgeon General Diana Ramos, MD
. "California is making significant investments to providing more support for communities and families so that all children have an opportunity to lead healthy, thriving lives."
"Childhood trauma is probably the largest single public health issue facing us as a nation.," said keynote
Bessel van der Kolk, MD
, "Learning self-regulation through attuned interactions, play & awareness of self and others are at the core of any effective intervention in any system that deals with children & adolescents."
"We know that healthy relationships built on consistency and trust can protect families and communities are primary buffers against toxic stress in our communities," said
Martine Singer, CII's President and CEO
, "CII is honored to host this year's stellar keynote speakers who, like the extraordinary professionals that attend the conference, dedicate their lives to healing and health. CII is committed to equitable access to care and early education. Our teachers and clinicians partner with children and families to achieve educational success and emotional wellbeing, which are foundational to economic mobility and lifelong health."
"The UCLA Pritzker Center is proud to partner with CII to host this year's Trauma Informed Care Conference," said
Taylor Dudley, JD , UCLA Pritzker Center Executive Director
, "As a bridge from our campus and into neighborhoods across Los Angeles, we team with UCLA researchers and community leaders to challenge and resolve systemic injustices facing children and families. This conference brings that mission to life, and we thank CII for having us take part in its efforts."
The conference will also feature a community panel with individuals who have lived-experience with the system and/or received services and are now able to provide wellness resources to and advocate on behalf of their own community. Breakout workshops will be facilitated by experts from CII, UCLA's Pritzker Center, the UCLA-UCSF ACEs Aware Family Resilience Network and the Trauma Research Foundation. Hundreds of attendees are expected to join virtually on Tuesday, September 26.
For more information and to register for this year's Trauma-Informed Care Conference, go to
childrensinstitute.org/TIC23
.
About Trauma-Informed Care Conference 2023 Presenters
Bessel van der Kolk, MD
is a psychiatrist, author, researcher and educator. He is the author of The <i>New York Times</i> best-seller, <i>The Body Keeps the Score.</i> Dr. van der Kolk formerly served as president of the International Society for Traumatic Stress Studies, and is a former co-director of the National Child Traumatic Stress Network, a Congressionally mandated initiative that now funds approximately 150 centers specializing in developing effective treatment interventions and implementing them in a wide array of settings, from juvenile detention centers to tribal agencies, nationwide. His efforts led to the establishment of Trauma Center (now the Trauma Research Foundation) which consisted of a well-trained clinical team specializing in the treatment of children and adults with histories of child maltreatment, that applied treatment models that are widely taught and implemented nationwide.
Diana Ramos, MD MD, MPH, MBA, FACOG
is California's second Surgeon General and first Latina Surgeon General. She has served as the Assistant Deputy Director of Chronic Disease Prevention for the California Department of Public Health. She has also served as the Director for Reproductive Health in the Los Angeles County Department of Public Health and as an adjunct Associate Professor at the Keck University of Southern California School of Medicine. Dr. Ramos is the Immediate Past Chair for the American College of Obstetricians and Gynecologist, California & Ecuador (IX) District, secretary for the executive board of the National Hispanic Medical Association, and is co-chair for the Women's Preventive Service Initiative implementation committee. Her areas of expertise include health disparities, social determinants of health, preconception/interconception health, preterm birth, contraception and quality improvement in health.
Eraka Bath, MD
is a Professor and Vice Chair for Justice, Equity, Diversity and Inclusion in the Department of Psychiatry, and senior advisor for the UCLA DGSOM Antiracism Roadmap (ARR). Board certified in child and adolescent, adult, and forensic psychiatry, she has a long-standing interest in community mental health and has committed her career to advancing health equity for ethnoracially minoritized, and structurally marginalized youth and families, with specialized focus on youth impacted by the foster care and juvenile legal systems. Her current research involves using community participatory models to increase engagement in behavioral and reproductive health with for girls with histories of commercial sexual exploitation and those involved in the child welfare and juvenile legal system.
Mariana Dale
is a senior K-12 education reporter at LAist, a public media organization. She explores and explains the forces that shape how and what Southern California kids learn from kindergarten to high school. She started at LAist in 2019, where her time on the early childhood beat helped her understand just how many factors shape kids' lives, from health to childcare access. Dale previously reported for newspapers and public media newsrooms in Arizona, her home state. She's won local and national awards for her work, including a National Edward R. Murrow award for continuing coverage of Arizona's 2018 teacher strike.
###
Children's Institute (CII) has served Los Angeles communities since 1906. Every year, CII supports 30,000 children and families across Los Angeles in achieving emotional well-being and educational success, which build pathways to economic mobility. We work in communities impacted by decades of underinvestment and racist policies- from Echo Park to Watts to Long Beach. CII offers education, counseling services, parenting support, convening spaces and enrichment programs in the community and at our early education centers, K-12 schools, and neighborhood hubs. Learn more at
childrensinstitute.org
. More about CII's Board of Trustees, can be found here:
childrensinstitute.org/our-team
.
The UCLA Pritzker Center for Strengthening Children and Families unites a multidisciplinary network across campus and throughout Los Angeles County to identify prevention strategies that safely reduce the need for foster care, while supporting equitable reform to our child welfare system. As a bridge from UCLA's campus and into neighborhoods across Los Angeles, we team with UCLA researchers and community leaders to challenge and resolve systematic injustices facing children and families. Learn more at
pritzkercenter.ucla.edu
.
###
Email Childrens Institute