STIHL plans additional growth despite challenging fiscal year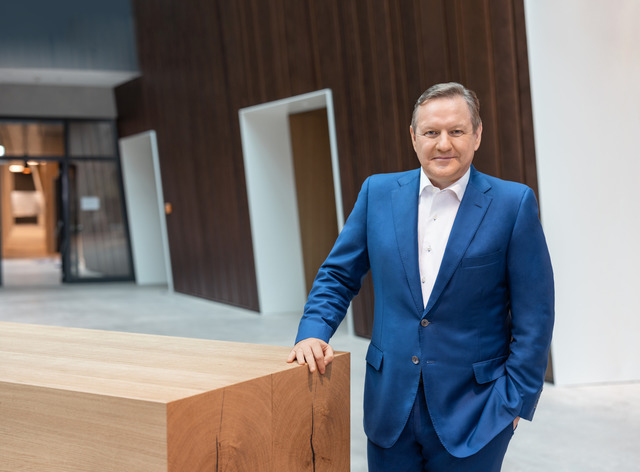 • Entry into EC motor manufacturing
• Further growth in battery segment
• Variety of new battery-operated products for professional and home users
The past eight months have proven challenging for the STIHL Group. The company generated revenue of 3.84 billion euros in the period from January to August 2023, a decline of 1.5 percent year on year. Excluding exchange rate effects, revenue would have increased by 0.9 percent. The workforce decreased by 0.5 percent to 20,311 employees worldwide as of August 31, 2023. There are a number of reasons for the deterioration in business performance. Since the lifting of measures to contain the coronavirus, consumers have resumed spending more on tourism, cultural activities, and eating out. Weaker economic development, inflation, and the cost of energy have also led to subdued consumer spending in general. Alongside this restraint among consumers around the world, authorized dealers' high stock levels have also had an impact on sales performance at STIHL.
Speaking at the press conference held during International STIHL Media Day on September 13, Michael Traub, Chairman of the STIHL Executive Board, said: "After several years of strong growth, our markets find themselves in a period of temporary consolidation in 2023. But with over 100 years of history in the industry, STIHL has plenty of experience in responding to fluctuations in operating business. Our family-owned company has a long-term outlook, and we look to the future with confidence. We have ambitious growth plans and continue to invest a great deal in our business, especially in batteries - the technology of the future - and in our global manufacturing and sales network." Those plans include further expansion of the founding company in Germany, Traub added. Alongside a new manufacturing facility for battery-operated tools, the company also plans to build its own EC motor plant for professional battery-operated products in Waiblingen, increasing STIHL's depth of production for battery-operated tools even further.
Growth in the battery segment despite challenging market conditions
"What's positive is that our battery strategy is paying off and that our customers around the world remain very interested in battery-operated STIHL products," said Traub. "Sales of battery-operated chainsaws and other battery-operated power tools have increased year on year, and we have also achieved growth with our iMOW robotic mower. Some regional markets are also developing positively. Nevertheless, we are still seeing an overall decline in sales worldwide across all drive types."
Global markets at a glance:
• Sales volumes in Western Europe are down year on year. Demand in the domestic market of Germany was impacted by a delayed start to the summer season, with a wet and cold spring and subsequent dry weather. Sales declined accordingly, with revenue remaining on a par with the previous year. Demand also fell in Eastern Europe.
• Sales in North America decreased - a trend that also affected STIHL's largest market: the U.S. Latin America, on the other hand, is performing on a par with the previous year. Brazil, STIHL's largest South American market, recorded a slight increase in sales.
• Africa is continuing on its growth trajectory, recording a rise in sales. Especially South Africa is developing positively.
• Asia reported a year-on-year decrease in sales. However, the Indian market saw its sales rise slightly compared to the previous year.
• In Oceania, sales were below the previous-year figure overall, with New Zealand generating sales growth.
STIHL remains optimistic and expects further growth in the medium to long term
"As an independent, family-owned company with a high equity ratio of over 60 percent, we can continue to operate and plan with a long-term outlook, despite the challenging market development in the short term," said Traub. "That's why we anticipate further growth, particularly in the battery segment, and are investing significantly in the global STIHL Group." The investments include the following:
• Expanding and renewing the STIHL product range for private consumers and in the profes-sional segment.
• Developing high-performance charging solutions for battery-operated products, particularly in the professional segment, to make it easier for people to operate their battery-operated tools without interruption throughout the day and work in and with nature.
• Expanding global sales channels with the addition of e-commerce solutions and growing the global network of specialist dealers.
• Developing special products for emerging markets to make even better use of market poten-tial there.
In-house EC motor manufacturing: increasing depth of production and affirming commitment to the founding company in Germany
From mechanical parts such as slides, chains, sprocket covers, and housing to electronics like bat-tery packs or cable harnesses, STIHL already develops and manufactures many of the parts used in its battery products itself. Now the company plans to begin manufacturing its own EC motors too. Producing the components in-house will ensure that the electric motors, which are already developed by STIHL, are an even better match for the products as a whole - something that will further enhance the performance and quality of the company's battery-operated tools. The facility will be established at the founding company in Waiblingen, Germany, and initially focus on producing EC motors for professional battery-operated products. It is set to start in 2025. The total investment amounts to roughly 17 million euros.
"We are now manufacturing the beating heart of any battery-operated tool: the EC motor," said Traub. "This marks a major strategic step in our transformation and allows us to increase the depth of our added value in the expanding battery market, strengthen our supply chain resilience, and broaden our expertise. Last, but by no means least, the decision to set up the new facility in Waiblingen represents a strong commitment to our founding company in Germany and will enable us to safeguard jobs there in the long term."
Read more at
https://www.stihl.com/press.aspx
Dr. Stefan Caspari
Phone: +49 - (0) 7151/26-1402
stefan.caspari@stihl.de
Contact Information
Dr. Stefan Caspari
ANDREAS STIHL AG & Co. KG
+49 - (0) 7151/26-1402
Contact Us
Email ANDREAS STIHL AG & Co. KG