San Diego, CA Author Publishes Biography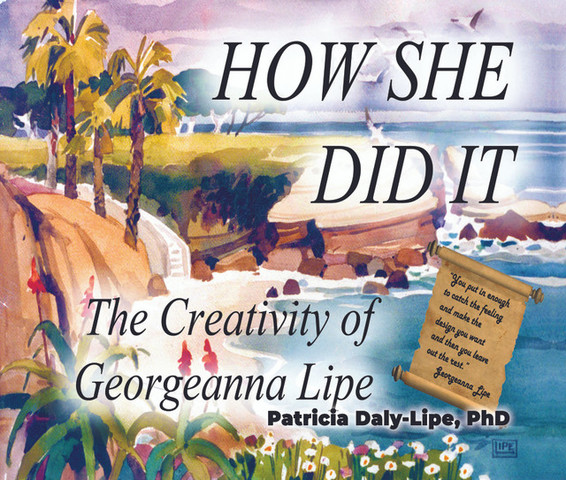 HOW SHE DID IT: The Creativity of Georgeanna Lipe, a new book by Patricia Daly-Lipe, PhD, has been released by Dorrance Publishing Co., Inc.
"The exuberance of facing a stark white canvas or beautifully hand-crafted watercolor sheets is pure joy. The approach I take is to let it come from within."
This is precisely what Georgeanna Lipe wrote. As artists, we usually start with a preconceived idea which often morphs into something totally unexpected. Viola! A mixture of energetic movements of colors and shapes emerges. Both she and I have a background in professional work in anatomy. As she writes, study of color theory and illustration have given us the technological tools we need. However, as Georgeanna points out, it is our inner voice that is in charge. Whether it is figurative or landscape work, as artists, we love bright colors and subtle emphasis of intertwining shapes. My inspiration is always harmony of nature and the spirit of mankind. I work from both my photographs or on location. Having traveled and lived in Europe, visiting museums and everyday life there left a huge impression on me and my work. We see the same in the life and paintings portrayed in this book of Georgeanna Lipe!
Stephanie Pyren: A commercial and private fine artist who is a national and international exhibitor in France, Bangkok, Holland and throughout the United States. Stephanie has taught life drawing, as well as painting in all media. She worked in many major animation studios in Los Angeles as a character designer and background painter and in the licensing division of Warner Bros. In addition, she has illustrated four children's books. Stephanie and her husband recently relocated to Jacksonville, Florida where she continues to be active with the arts.
www.stephaniepyren-finearts.com
[Georgeanna] had a smile as quick as her wit and warm as her heart. Her personality was a triple shot of curiosity, creativity, and positivity blended with an adventurous spirit and spunk.
Patti Keyes: Manager of The Artists Gallery, La Jolla, CA
HOW SHE DID IT: The Creativity of Georgeanna Lipe is a 92-page hardbound with a retail price of $49.00 (eBook $44.00). The ISBN is 979-8-88729-380-6. It was published by Dorrance Publishing Co., Inc of Pittsburgh, Pennsylvania. For members of the press, to request a review copy, visit our virtual pressroom at
https://dorrancepressroom.com/how-she-did-it-the-creativity-of-georgeanna-lipe/
or to buy the book visit our online bookstore at
https://bookstore.dorrancepublishing.com/how-she-did-it-the-creativity-of-georgeanna-lipe/
Email Dorrance Publishing