Decorah, IA Author Publishes Biography of an Artist and an Art Movement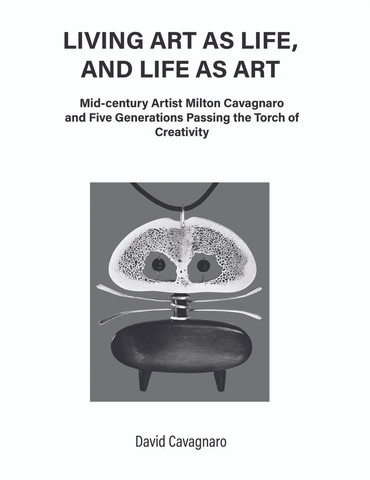 Living Art as Life, and Life as Art: Mid-century Artist Milton Cavagnaro and Five Generations Passing the Torch of Creativity, a new book by David Cavagnaro, has been released by Dorrance Publishing Co., Inc.
In the late 1930s, with World War II looming, the famous German Bauhaus art school closed, and many of its teachers migrated to America, greatly influencing the course of modern art and architecture in the 1940s and 1950s. Influenced by the work of Bauhaus painters such as Lyonel Feininger, Paul Klee, and Wassily Kandinsky, a young artist named Milton Cavagnaro began what would become a lifetime art career in San Francisco that spanned abstract painting, commercial design, college teaching, jewelry making, gardening and landscaping. During this journey, many famous mid-century artists, beginning their own careers, would grace his family's life as friends or visitors, including photographers Ansel Adams, Imogen Cunningham, Ernest Braun; Margaret Bourke White and Yohana Meith, the first women photographers for Life; and close associates of Diego Rivera and Frida Kahlo. Milton's history, as told here by son David Cavagnaro, became in the writing the much larger story of five generations in the family, all passing along the torch of creativity via a plethora of media.
Lavishly illustrated, this journey demonstrates that the definition and expression of art can permeate all of life, if we also live life itself as art.
About the Author
David Cavagnaro is the author of six previous books and a widely published writer and photographer in the fields of natural history and horticulture. Having spent most of his life in Northern California, his former home and land in Northeast Iowa have become The Pepperfield Project, a nonprofit devoted to sustainable food gardening, seed-saving, and personal growth, body, mind, and spirit. His work and activities may be viewed at
www.naturalight.net.
Living Art as Life, and Life as Art: Mid-century Artist Milton Cavagnaro and Five Generations Passing the Torch of Creativity is a 160-page paperback with a retail price of $53.00 (eBook 483.00). The ISBN is 979-8-88925-339-6. It was published by Dorrance Publishing Co., Inc of Pittsburgh, Pennsylvania. For members of the press, to request a review copy, visit our virtual pressroom at
https://dorrancepressroom.com/living-art-as-life-and-life-as-art-mid-century-artist-milton-cavagnaro-and-five-generations-passing-the-torch-of-creativity/
or to buy the book visit our online bookstore at
https://bookstore.dorrancepublishing.com/living-art-as-life-and-life-as-art-mid-century-artist-milton-cavagnaro-and-five-generations-passing-the-torch-of-creativity/
Email Dorrance Publishing