Greenwood, IN Author Publishes Military History Book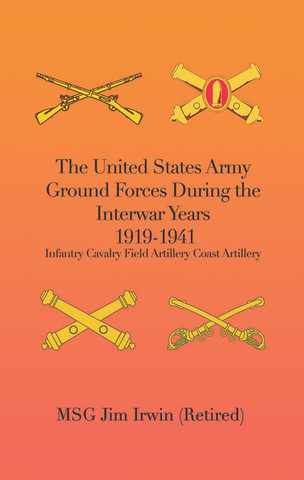 The United States Army Ground Forces During the Interwar Years 1919-1941, a new book by MSG Jim Irwin (Retired), has been released by Dorrance Publishing Co., Inc.
The United States Army Ground Forces During the Interwar Years 1919-1941 covers the period of the Interwar years 1919-1941. It is intended for individuals interested in US Army history of that era. Insignias and pictures lend to the experience of the era.
From the author: "From Bunker Hill to Baghdad, I have always been interested in United States Army history. Yet, the only area that was for so long unwritten about was the Interwar Period, the years between the World Wars. Lately there have been many new publications regarding histories of this era. I personally have gained many new insights to army units during the Interwar, including information on the great Army maneuvers of 1940 and 1941.
This booklet will cover many aspects and items pertaining to this period in American history. I have not added anecdotes as so many period histories do. This publication does provide information of units from corps, divisions, harbor defenses, and regiments. I do hope this booklet will spark an interest in you to further read and research this fascinating time in the Army of the 1920s and 30s.
This booklet can also be used as a quick reference guide for your research. The reader will find information on units, unit assignments, unit status, locations, and time periods of units have been researched by me from reliable sources. Some units may have changed stations and so the time or station will be reflected by the longest station the unit served at.
It is important to understand the Interwar Army's difficulties during the twenty years and to further understand how well it performed with the scant resources provided to it. It is my hope that you too will gain an interest in a very important time in America's history and the struggles that the Interwar Army had to overcome."
About the Author
MSG Jim Irwin (Retired) is a retired community college professor. He taught business and technology courses. He served two years in the US Army during the Vietnam war, and spent another twenty-seven years in the Indiana Army National Guard. His biggest hobby is reading fiction and non-fiction alike.
The United States Army Ground Forces During the Interwar Years 1919-1941 is a 140-page paperback with a retail price of $15.00 (hardcover $28.00, eBook $13.00). The ISBN is 979-8-88812-151-1. It was published by Dorrance Publishing Co., Inc of Pittsburgh, Pennsylvania. For members of the press, to request a review copy, visit our virtual pressroom at
https://dorrancepressroom.com/the-united-states-army-ground-forces-during-the-interwar-years-1919-1941-infantry-cavalry-field-artillery-coast-artillery-pb/
or to buy the book visit our online bookstore at
https://bookstore.dorrancepublishing.com/the-united-states-army-ground-forces-during-the-interwar-years-1919-1941-infantry-cavalry-field-artillery-coast-artillery-pb/
Email Dorrance Publishing