San Mateo, FL Author Publishes Historical Book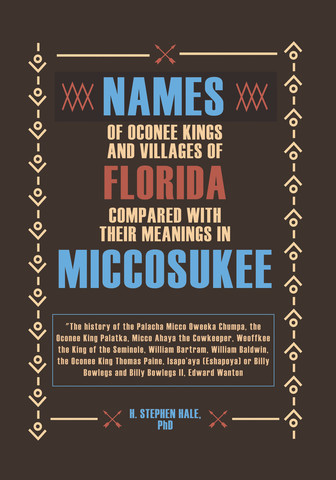 Names of Oconee Kings and Villages of Florida Compared with their Meanings in Miccosukee, a new book by H. Stephen Hale, PhD, has been released by Dorrance Publishing Co., Inc.
Names examines an alternate explanation for the sudden disappearance of the Long Warrior and concomitant sudden appearance of King Thomas Paine who nobody knew anything about before 1786. It also explores the unusual education of Billy Bowlegs II and his sister.
Dr. William Simmons saw them at Horatio Dexter's place and mentioned them being cared for at his home. Edward Wanton, the clerk at the Picolata Indian Store kept meticulous records and names of the Alachua Chiefs with the amount of debt they owed Panton, Leslie and Company. Sitarky, the second in command under Billy Bowlegs II may have been the son-in-law of Oconee King Thomas Paine. This different perspective on where Oconee King Thomas Paine may have come from stresses the value of being open to new information and paradigms. Many hold the perspective that history is finished with nothing more to be added. The author seeks to inspire people to be willing to entertain new ideas with fresh looks at old data.
About the Author
H. Stephen Hale, PhD was the first anthropologist to do archaeology among the Kuna in the Comarca de San Blas in Panama. While there he helped transcribe Kammu (flute) music, pictographic books, and study midden (refuse mound) formation. Hale studied Nahuatl in Mexico while mapping Totonac temple sites. He also translated for Kuna Natives of Panama studying Tenrikyo in Japan. Hale presently serves on a prescribed fire burn team for the Florida Park Service and a specialist for the removal of invasive, non-native plants from park properties. He is a trained First Aid Responder. Hale continues to support many of his Kuna friends in Panama and maintains friendships with people he met in Tenrikyo, Japan.
Names of Oconee Kings and Villages of Florida Compared with their Meanings in Miccosukee is a 64-page hardbound with a retail price of $42.00 (eBook $37.00). The ISBN is 979-8-88812-360-7. It was published by Dorrance Publishing Co., Inc of Pittsburgh, Pennsylvania. For members of the press, to request a review copy, visit our virtual pressroom at
https://dorrancepressroom.com/names-of-oconee-kings-and-villages-of-florida-compared-with-their-meanings-in-miccosukee/
or to buy the book visit our online bookstore at
https://bookstore.dorrancepublishing.com/names-of-oconee-kings-and-villages-of-florida-compared-with-their-meanings-in-miccosukee/
Email Dorrance Publishing