Wantagh, NY Author Publishes Thriller Novel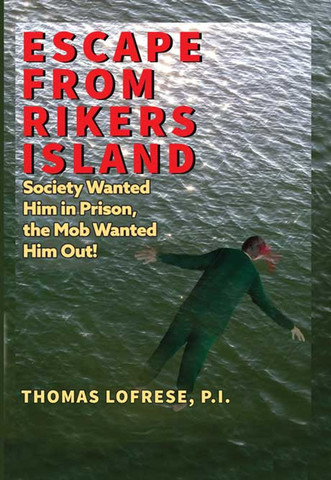 Escape from Rikers Island, a new book by Thomas LoFrese, P.l, has been released by Dorrance Publishing Co., Inc.
Sometimes called the Alcatraz of the East, Rikers Island in New York City sits in the East River between northern Queens County and the Bronx. lt is·a place where no one would ever want to be incarcerated. In this instance a well known mobster, Joey "Chop Shop" Terelli, was being held there. A short distance away, his trial for the brutal bloody murder of several people in a warehouse in Queens, was being held. His crime was being compared to the Saint Valentine's Day Massacre of 1929. His attorney, Ed Marone, was doing his best in court for Terelli but the mob was not satisfied with how things could turn out. They insisted that the best chance to make him a free man again would be to arrange for an escape from Rikers Island before the conclusion of a trial. To attempt this task the mob gave Marone no choice but to assemble a group of societal misfits to stage a jailbreak and with the backdrop of a pandemic and major tragic events in Ed Marone's personal life the impossible was to be attempted.
About the Author
Thomas LoFrese, P.l. is a licensed private investigator in the state of New York and president of TL Services Investigations, LLC. involved in investigations of all types for over fifty years in private industry and governmental agencies, he and his staff currently provide investigative services for both Civil and Criminal cases. Listed as an expert by New York City and Nassau County, NY.; he is also a member of the National Council of Investigation and Security Services and the Associated Licensed Detectives of New York State.
Escape from Rikers Island is a 164-page hardbound with a retail price of $32.00 (eBook $27.00). The ISBN is 979-8-88925-151-4. It was published by Dorrance Publishing Co., Inc of Pittsburgh, Pennsylvania. For members of the press, to request a review copy, visit our virtual pressroom at
https://dorrancepressroom.com/escape-from-rikers-island-society-wanted-him-in-prison-the-mob-wanted-him-out/
or to buy the book visit our online bookstore at
https://bookstore.dorrancepublishing.com/escape-from-rikers-island-society-wanted-him-in-prison-the-mob-wanted-him-out/
Email Dorrance Publishing