Bradenton, FL Author Publishes Poetry Collection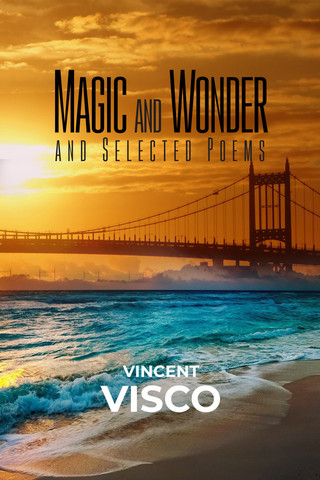 Magic and Wonder and Selected Poems, a new book by Vincent Visco, has been released by RoseDog Books.
Magic and Wonder and Selected Poems brings together two worlds, urban and pastoral. Combining elements from each to create a unique perspective of the simple things in life too often overlooked, the grittiness of growing up in a city environment and the curative quality of nature are an essential combination for creating character in a person.
These poems present a view into the everyday experiences that we should focus on rather than the harangue of negativity that is all around us. In a word, they are uplifting. Quite often, the works are humorous with some carrying social commentary but never browbeating. They are always positive in nature and a panacea to a world in turmoil. The title for this collection presents an essential task for all adults–that is, the need to read to children in order to open their eyes to the magic and wonder of words, creating a confidence to pass that on to others.
About the Author
Vincent Visco is a retired high school English teacher of forty-two years. Originally from Brooklyn where he taught, Visco now resides in Sarasota, Florida. He draws from his experiences of growing up in Brooklyn and the beauty of nature in Florida for inspiration.
Besides teaching all genres and literary periods, Visco also taught creative and expository writing, as well as public speaking. He's been writing most of his life, starting with fiction, but then twenty years ago, he switched to poetry as his major form of expression.
Visco is currently a member of the Lakewood Ranch Scribes, a writers' group that was featured in an article from a local magazine. They work in all genres which helps create a variety of different insights. He has amassed a large collection of works, with Magic and Wonder being his first completed collection of poems. As in his career, he always looks to present the world in a positive framework where anything can be accomplished if given the right motivation and tools. His poetry provides that sort of motivation for any age and demographic area.
Magic and Wonder and Selected Poems is a 88-page paperback with a retail price of $13.00 (eBook $8.00). The ISBN is 979-8-89027-147-1. It was published by RoseDog Books of Pittsburgh, Pennsylvania. For more information, or to request a review copy, please go to our virtual pressroom at
https://dorrancepressroom.com/magic-and-wonder-and-selected-poems/
or our online bookstore at
https://rosedogbookstore.com/magic-and-wonder-and-selected-poems/