CG4TV's Royalty Free Virtual Sets Are Now Available To Go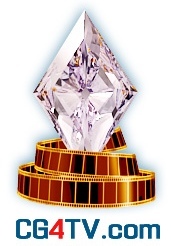 CG4TV's prices are so low in its just opened online store for high end
virtual sets
, video backgrounds, and animated graphics, that one broadcaster says his mom could afford the set.
"I was blown away that for the price of one night in a fine hotel and just a click, I could buy a virtual set for an international show I was tasked with creating just weeks ago," said David Waters, post production manager for 'This Week In Space with Miles O'Brien'." Waters created the look of the new show with sets and backgrounds from CG4TV and was able to launch it within days for former CNN anchor O'Brien.
The show also needed the portability of CG4TV's virtual sets since anchor Miles O'Brien travels the planet and can't do the show from a studio week to week. "We have him use a fold-up green screen the size of a backpack, so basically he is carrying the entire multimillion dollar set in a backpack," said Waters.
CG4TV.com's online store also provides TV and video producers with affordable computer generated
animated backgrounds
and
royalty-free stock footage
.
"Custom-made videorealistic 3D animations and virtual sets tend to be very expensive. Our goal is to change this by offering high quality 3D graphics for modest budgets. If you do not find what you are looking for in our catalog, we will produce it for you at a fraction of the pricing of competitors… as long as we can offer it to others in our store. While this means sharing the production cost with someone else, it does mean you get to be the first to use it. " - says CG4TV's Co-Founder and President Philippe Van Nedervelde.
The sets and
green screen backgrounds
can be downloaded in a variety of high definition, standard definition and web formats. A free download page offers samples of the ever growing virtual set collection.
To celebrate the store's opening, CG4TV will discount all items by 15% until March 30th, 2010. Use coupon code PRA10.
About CG4TV.com
CG4TV.com is a brand created, owned and developed by the industry-award winning company E-spaces . Incorporated in 1996, E-spaces was one of the world's very first practitioners of online 'virtual reality', i.e. interactive 3D graphics. As a design studio, the company produces photorealistic virtual sets, 3D graphics, 3D animated commercials, science and technology 3D visualizations, etc.
Company clients include PBS, Discovery Channel, NASA, HBO, 20th Century FOX, FOX News, Mitsubishi, Intel, Gillette, British Petroleum (BP), and The European Commission.
For more information, please visit
www.cg4tv.com
Media Contact: Helen Netherfield, 310-601-8234,
media@cg4tv.com