Tom Slingsby becomes first individual medallist to feature on 2012 Australian Gold Medallist stamp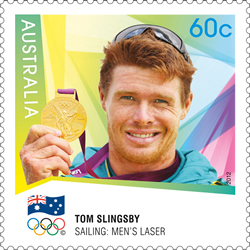 August 8, 2012 - After winning Australia's first individual gold medal of the London 2012 Olympic Games, sailing superstar and five time world champion, Tom Slingsby, will become Australia's first individual gold medallist to feature on a 2012 Australian Gold Medallist Stamp.
Stamps featuring an image of Slingsby from the gold medal dais in London will be available in participating Australia Post retail outlets from Thursday, 9 August while stocks last.
Slingsby held off nearest rival Pavlos Kontides of Cyprus to clinch the gold in the men's Laser class, after previously having finished 22nd in Beijing in the same event. With a 14-point lead at the start of the final day, Slingsby held on to win ahead of Pavlos, with Sweden's Rasmus Myrgren taking bronze.
Slingsby joins fellow Olympians Alicia Coutts, Cate Campbell, Brittany Elmslie and Melanie Schlanger as the fifth Australian athlete from the 2012 Olympic Games to have their images featured on a stamp through the Australian Gold Medallists Stamps program.
Australia Post is producing stamps for every Australian gold medallist from the London 2012 Olympic Games, and they are expected to be available in metropolitan Australia Post outlets within 48 hours of each gold medal presentation.
"Our first Gold Medallist stamp for the 2012 London Olympics featured the women's 4 x 100 freestyle team, and the positive response was fantastic. We are hoping that fans are just as excited to see Tom on our first individual stamp," said Australia Post Managing Director and CEO, Ahmed Fahour.
"This program recognises the hard work and success of our athletes. It also provides the public with an exciting opportunity to collect their own memento of the Olympic Games," he added.
The Australian Gold Medallists Stamps are part of Australia Post's continuing support of the Australian Olympic Team. Australia Post has already released The Road to London stamp on 5 June and three commemorative sport stamps on 17 July celebrating Australia's proud tradition at the Olympics in swimming, rowing and pole vault.
For further information on Australia Post's full range of Olympic stamp products, please visit
shop.auspost.com.au
.
Australia Post is part of the fabric of Australian life committed to providing high-quality mail and parcel services to all Australians. Australia Post also offers travel products and services such as
travel cards
,
foreign currency
and
travel insurance
.