Experience and Ice Cream: Apply for Summer Internship at Ingenex Digital Marketing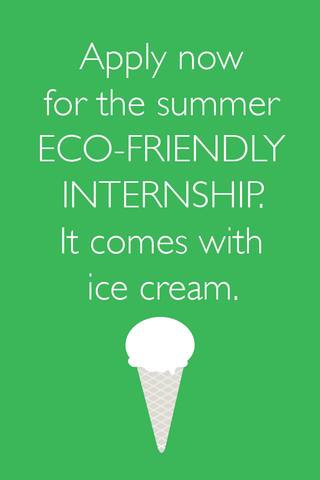 Have you ever wanted to spend the summer at the epicenter of art, food, and culture in Michigan? Ingenex Digital Marketing, located on Main Street in downtown Ann Arbor, is hiring digital-savvy college students and recent graduates for the summer 2013
Eco-Friendly Internship
program, from May 20 to Aug. 23.
Ready to gain hands-on experience in all aspects of
digital marketing and media
? The program gives college students and recent graduates the opportunity to work with social media marketing, search engine optimization, digital marketing strategy, online public relations, and more. This internship allows interns the unique chance to recieve one-on-one guidance from Derek Mehraban, CEO of Ingenex and instructor of MSU's
New Media Driver's License
course, as well as other established digital marketing professionals.
Open to Wolverines and Spartans alike, this internship is ideal for bright and creative individuals with a passion for innovation and new digital trends. Students majoring in marketing, advertising, communications, public relations, or related fields are encouraged to apply, and will have the chance to receive college credit upon completion of the summer-long internship. Perks include access to high-speed internet, gourmet coffee, ice cream, and cupcakes.
Eco-Friendly Interns work downtown Ann Arbor during such events as the Ann Arbor Summer Festival, the Ann Arbor Art Fairs, and Sonic Lunch. They also will be key participants in the Second Annual Digital Bus Summer Tour, which brings the Ingenex staff to events all around southeast Michigan.
"Being an Eco-Friendly Intern has given me unique perspective into the world of digital marketing. I had the opportunity to put my knowledge into practice in a real world setting working on real clients," said Laura Ene, an Eco-Friendly intern and senior at MSU. "Now when looking for a job, I will be at an advantage compared to my peers thanks to the skills I have learned at Ingenex."
Send in your application today! The deadline is April 15, 2013. Just fill out the form on the
digital marketing internship
page, and direct any questions to
jobs@ingenexdigital.com
.
About Ingenex Digital Marketing
Ingenex Digital Marketing is a digital marketing agency based in Ann Arbor, Mich.; delivering a full suite of digital marketing services since 2006, including: website design, social media marketing campaigns, Google Analytics, search engine optimization (SEO), pay per click advertising (PPC), digital public relations, and mobile applications development. To learn how Ingenex can help you connect with your customers, visit us at
http://ingenexdigital.com
or give us a call at 1-855-INGENEX (885-464-3639).
Email Ingenex Digital Marketing