Sherman Bridge to give investors a chance at a getaway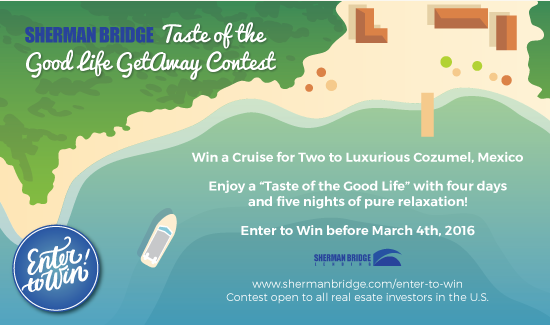 January 26, 2016 - Irving, Texas:
Sherman Bridge
, a national hard money lender for property investments, is hosting what they are deeming a "Taste of the Good Life" vacation getaway.
Through March 4, 2016, investors from across the nation, who have spent their valuable time and money on real estate flips are invited to submit their best success story in the form of an essay, images, PowerPoint, or video. One lucky investor will win a four-night, five-day luxury
cruise to Cozumel, Mexico.
The success story should contain the details of their best flip, including their profit margin, before and after pictures, and also their renovation strategy along with any good tales that might have come with it.
Sherman Bridge is excited to bring investors frequent contests and fun prizes in 2016, and say this is just the beginning. They believe investors should unite over their work, and be rewarded for it. Sherman Bridge also hopes to learn from their customers and be provided with material meant to be an inspiration for those looking to get into the world of real estate investment.
Real estate investors profit from buying distressed investment properties low, and then after performing renovations, they will sell the property high on the market. Sherman Bridge gives investors the resources they need to do this successfully. With Sherman Bridge's
30-second pre-qualification
and 30-minute pre-approval, investors are given access to the funds they need, in seven days or less. This opportunity is unique because most banks will not finance the needed repairs on a distressed investment property while Sherman Bridge provides funding for any level of distress. Investors are also given the opportunity to rent out their property, with 30 years to repay their loan.
Among these innovations is the
30-Second Rate Calculator
that, in a matter of seconds, shows how easy it is to apply for a loan. Sherman Bridge University, another state-of-the-art resource, provides investors with all the information they need, and along with
numerous exclusive tools
, makes real estate investing easier than ever.
Public Relations and Communications, Haley Cunningham:
haley.cunningham@shermanbridge.com
Sherman Bridge official site:
www.shermanbridge.com
Official contest page:
www.shermanbridge.com/enter-to-win